Today is the official opening of the 2011 Rugby World Cup, which is of course being hosted in my beautiful country - New Zealand!
Since I'm working the late night at work tonight, I'll be missing all of the opening ceremony (I'm dying a little on the inside) BUT, I will be home to see the opening match of New Zealand VS Tonga! Yay!
To show my support for NZ, I decided to paint my nails >_>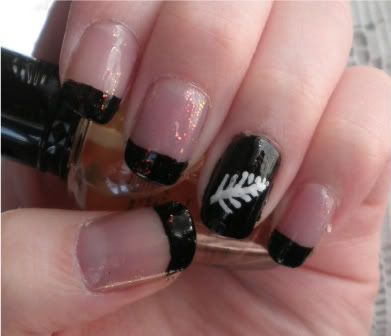 Not gonna lie, it's pretty wonky. But what do you expect?! I painted it all with a dotting tool because I still haven't got nail art brushes. Hahaha!
Here's what I used:
Kleancolor Pink Sleepers as a base on all nails apart from my ring finger

Kleancolor Black as the base on my ring finger, and on the tips of the others
Santee White for the silver fern design

Kleancolor Chunky Holo in Bluebell on all other fingers
Clear nail polish (no brand) as a top coat
GO THE MIGHTY ALL BLACKS!!!
Thanks for viewing dolls!
oxo