The lovely Kerry from Glitter Gal was kind enough to send me a holographic nail polish for review. I received the colour 'Copper' from their 3D Holographic collection. At $11.95AUD, these are very reasonably priced.
I received this early last week and was dying to try it out but was too busy with work and other commitments, so it sat on my table just waiting for me to use it. It comes in a 9ml bottle, I was definitely surprised at how small it was but I actually prefer it. I've had so many nail polishes over the years go all gross and gluggy because I haven't been able to use them all. So to me, these being on the smaller side is nothing but beneficial – and they'll take up way less room if I use them in my kit.
The formula itself is a beautifully smooth consistency – it applies like a dream! The first coat was quite sheer and a little streaky, but the second coat fixed that up nicely. The holographic effect is sooo intense! As I write this my nails are glittering beautifully in the sunlight that's streaming in through the window. It is seriously gorgeous. I actually can't stop admiring my nails. :P
Here are some photos:
In natural light


Inside with flash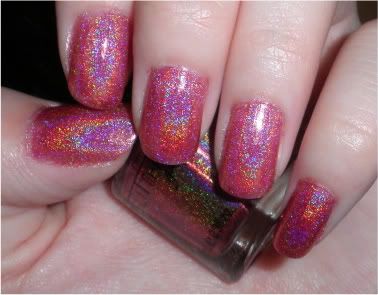 Isn't it gorgeous?!
I'm so impressed with this nail polish, I am actually dying to get my hands on the other ones in the collection now. Especially the black and silver ones! And how cool would these look with a konad design over them?
Check out these amazing nail polishes at their website http://www.glittergal.com.au, I assure you, you will NOT be disappointed!
Thanks for viewing!
oxo